This summer (2019) we spent 3 weeks in the Alps travelling with the van and hiking almost every day : few days in the French and the Austrian Alps, and 2 weeks in the Dolomites in Italy. It was not our first visit in this mountain range, but our last time here dates back to 2012 at a time when we had no kids and only our small camping tent with us.
Back in 2012, Dolomites were already a really visited place in summer, but it was more hiked by Italien people than foreigners and it was easier to find a quiet place in mid-day than today. Now it has become a famous place with crowded car parks on top hiking trails, but it is still possible to enjoy it with almost nobody on trails if you choose the right time to hike.
Piz Ciampei is one of these summits where nobody goes, avoided by hikers, and fast to reach. Indeed, if you find the right trail it is something like 30/40 minutes from the Paso Valparola.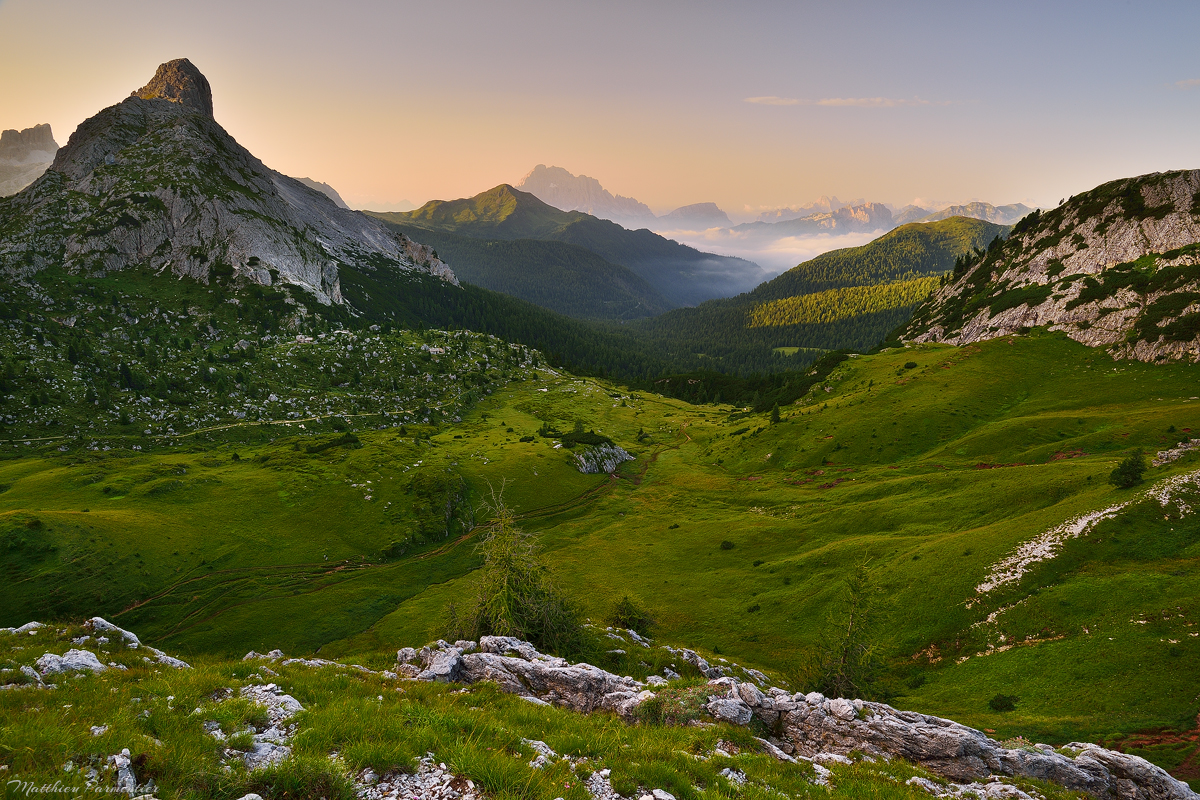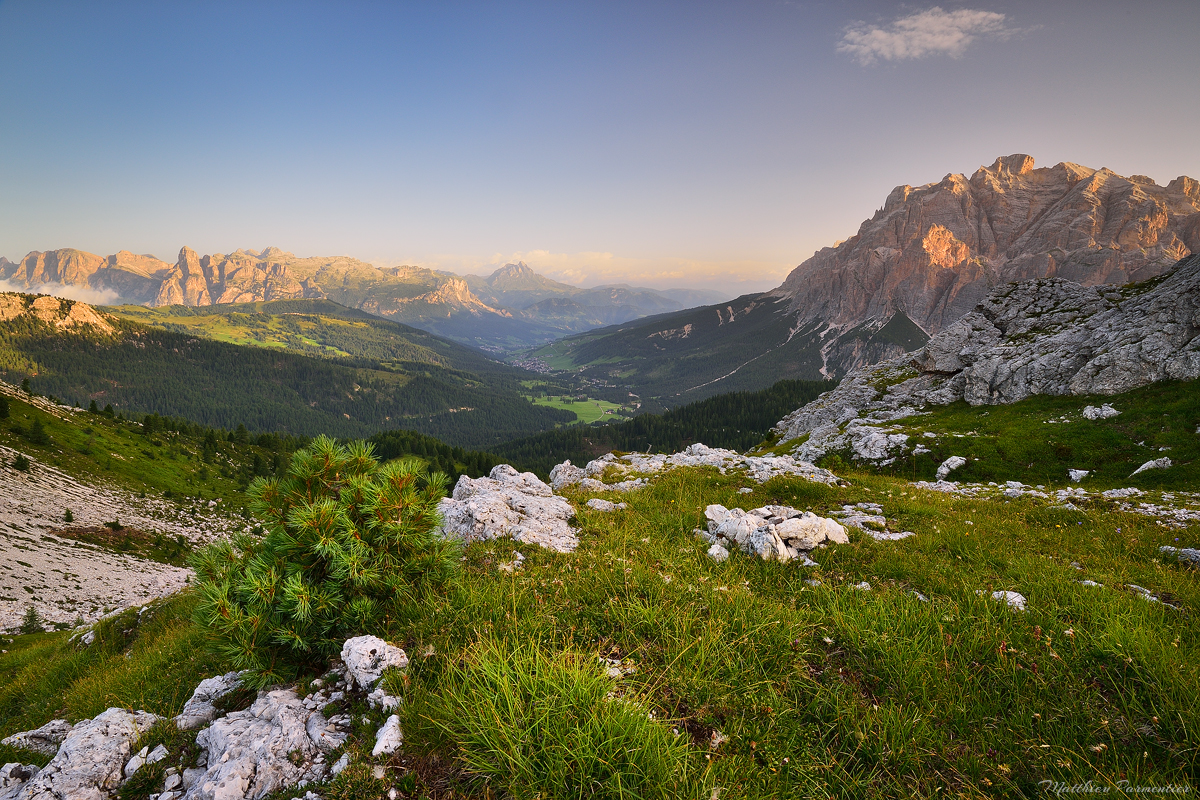 Piz Ciampei was not a goal when I hiked it up that day. Everybody was sleeping in the van somewhere not far from Paso Valparola when I woke and decided to go for a walk/hike with my dog and my camera. I did what I like to do every time I sleep in mountains (with the tent or with the van) : walk, follow trails with no goal, enjoy the silence and take pictures if the light is good.
I remembered that the day before I saw the cross of the summit with my binoculars but I didn't think about reaching it in the morning. The marked trails and some sheep trails made me finally find a way to find the summit and it was a really good suprise. The view is 360° on the area and the only disrupting sound here is the one of the few cars running the Valparola pass.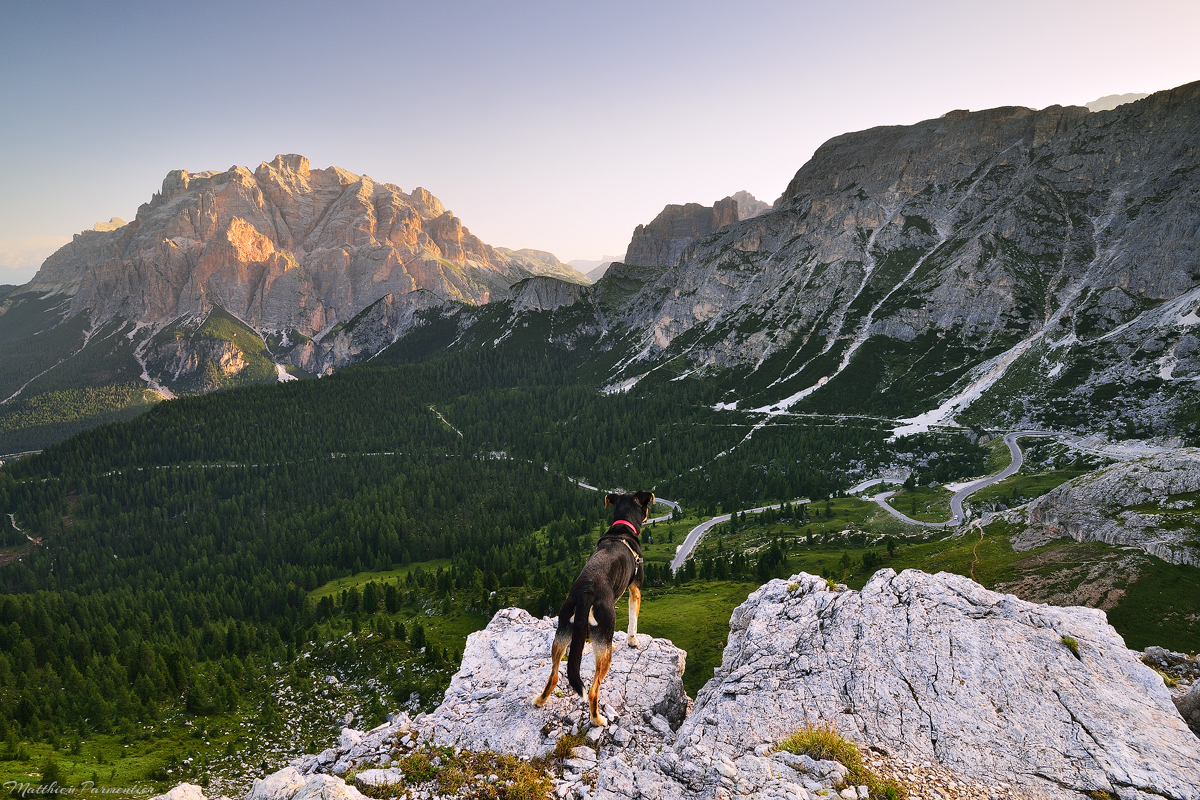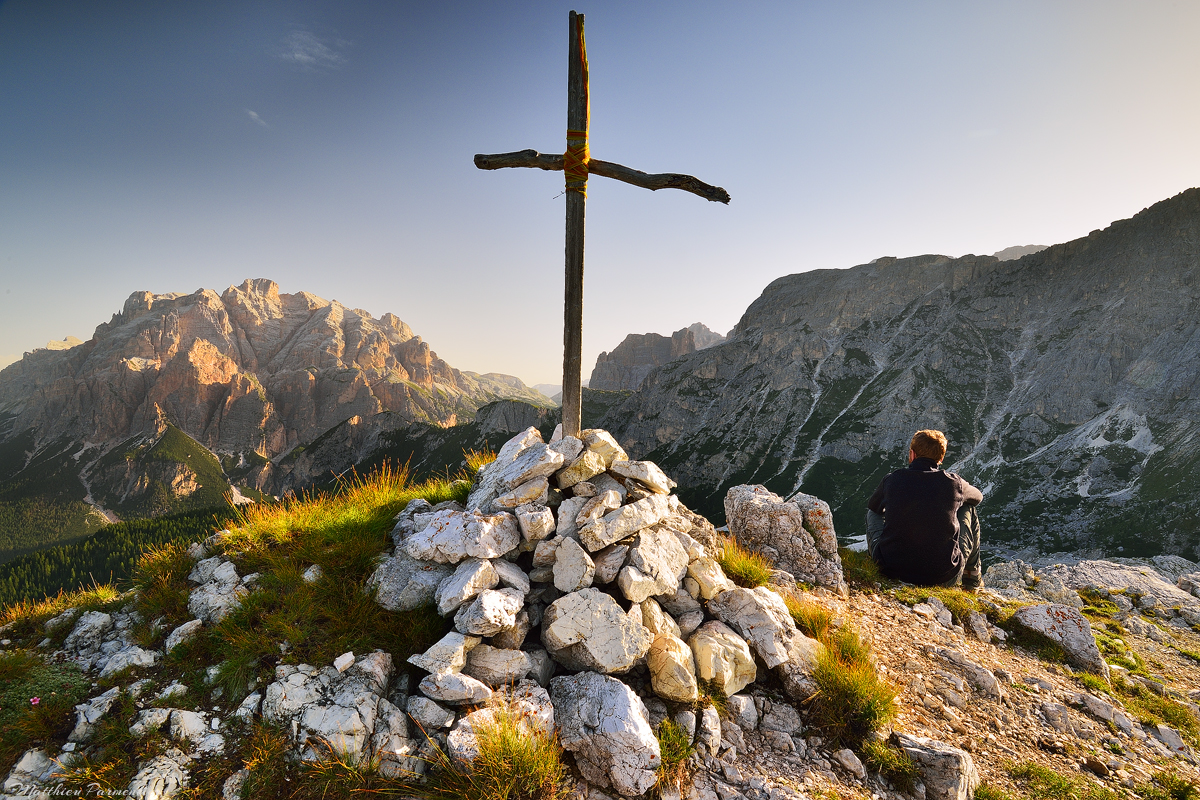 The thing to know about this summit is that it is not suitable for everybody. The last part is really steep and sleepery with a lot of rocks and gravels that could make the ascent dangerous sometimes. I hiked it up with my camera in hand and it I had some fear moments about falling with it… And the descent is worth so I would not advice this quick but dangerous hike to kids. I won't do it with mines… Needless to say that the dog did it like a charm ;-).
I hiked up a little bit off-trail so maybe there is another part easier somewhere. I didn't find it so for now just take care if you go there. On the other hand you will be rewarded by a nice view and a true feeling of peace up there, so it is really worth the effort if you have good shoes and walking sticks.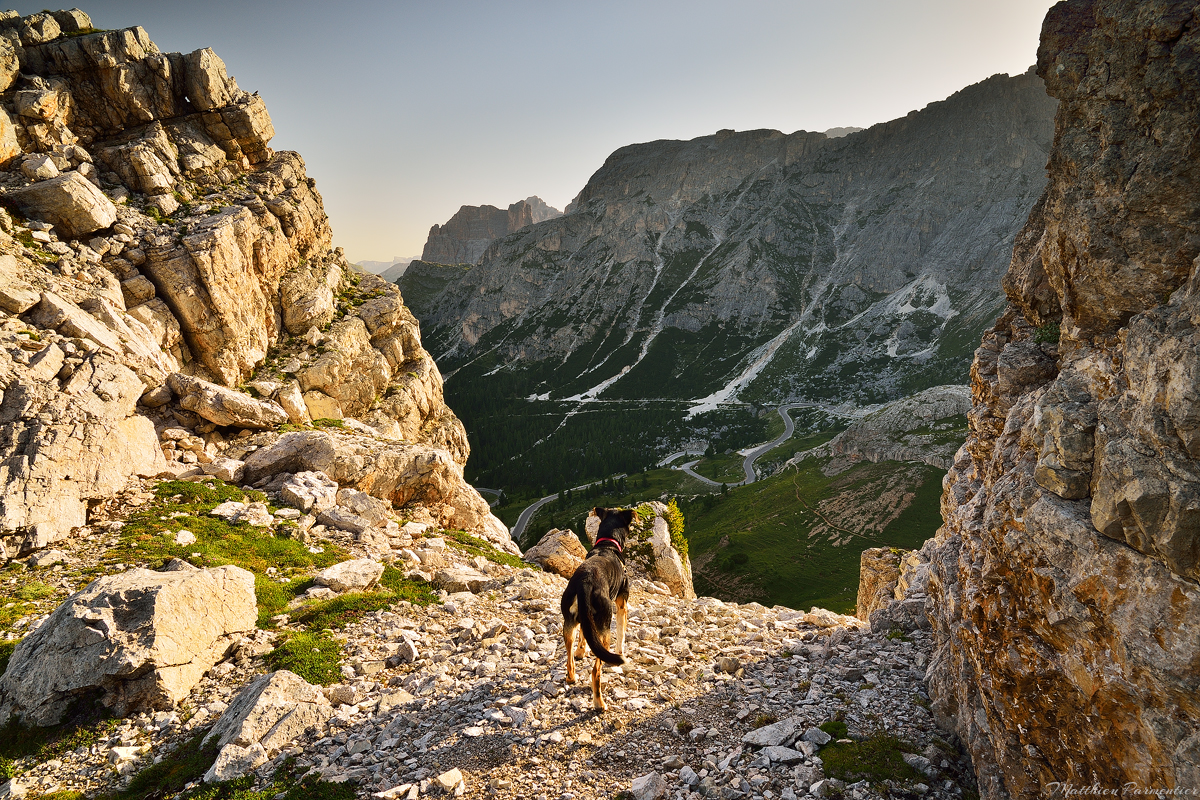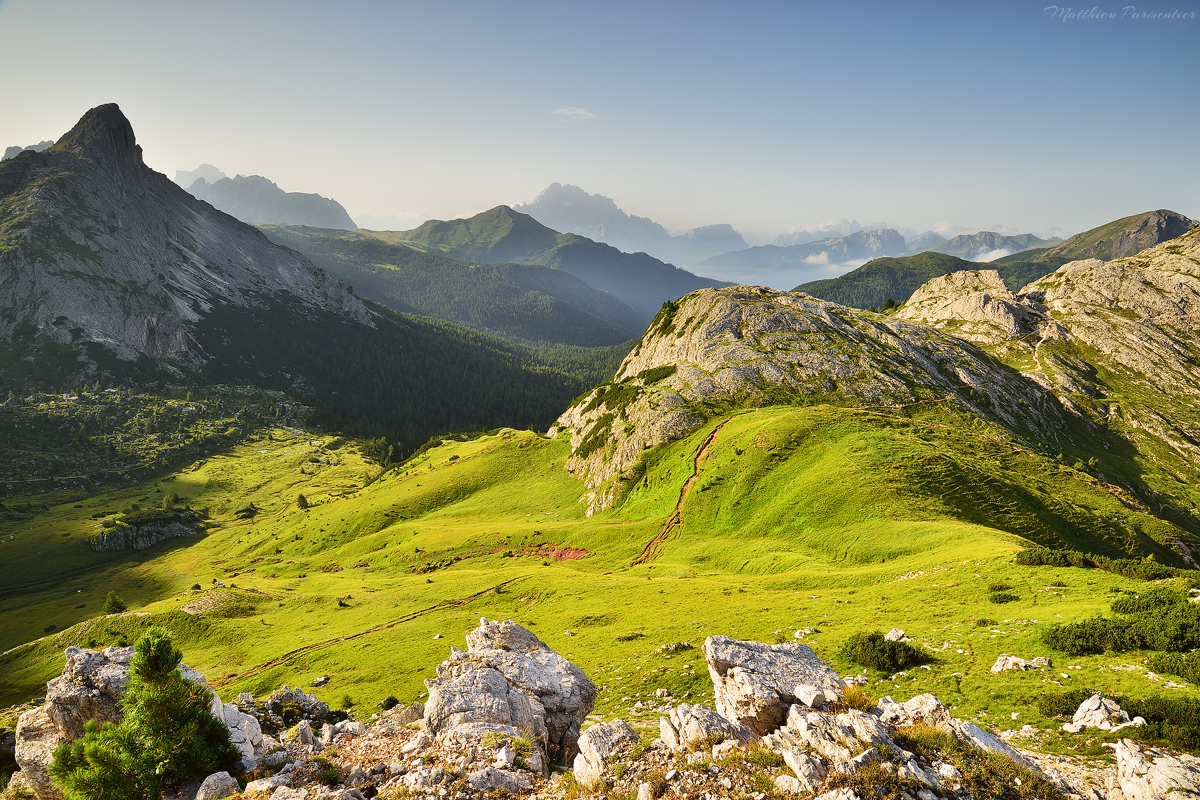 I couldn't find many information about Piz Ciampei on Internet so I wrote here everything that seems sure to me. I tried to mark the "easier" trail on the map but even on this one the last ascent isn't officially mentionned.
If you're looking for a quick ascent around Paso Valparola to enjoy a sunrise or sunset this is your place. It was mine, it is still a strong and nice memory. Hope you will find an easer way than me !
---
Information
Departure : Passo Valparola (anywhere around)
Altitudes : 2168m (passo), 2290m (summit)
Elevation gain : 122m
Duration : 40min (depending on the track you take)
Date : august 2019
Mountain range : Dolomites
---
Map
NB : The red trace is the trail I walked (from the place we parked our van for the night). It is easier to start from the Rifugio Paso Valparola (blue trace and then red).
You might also like