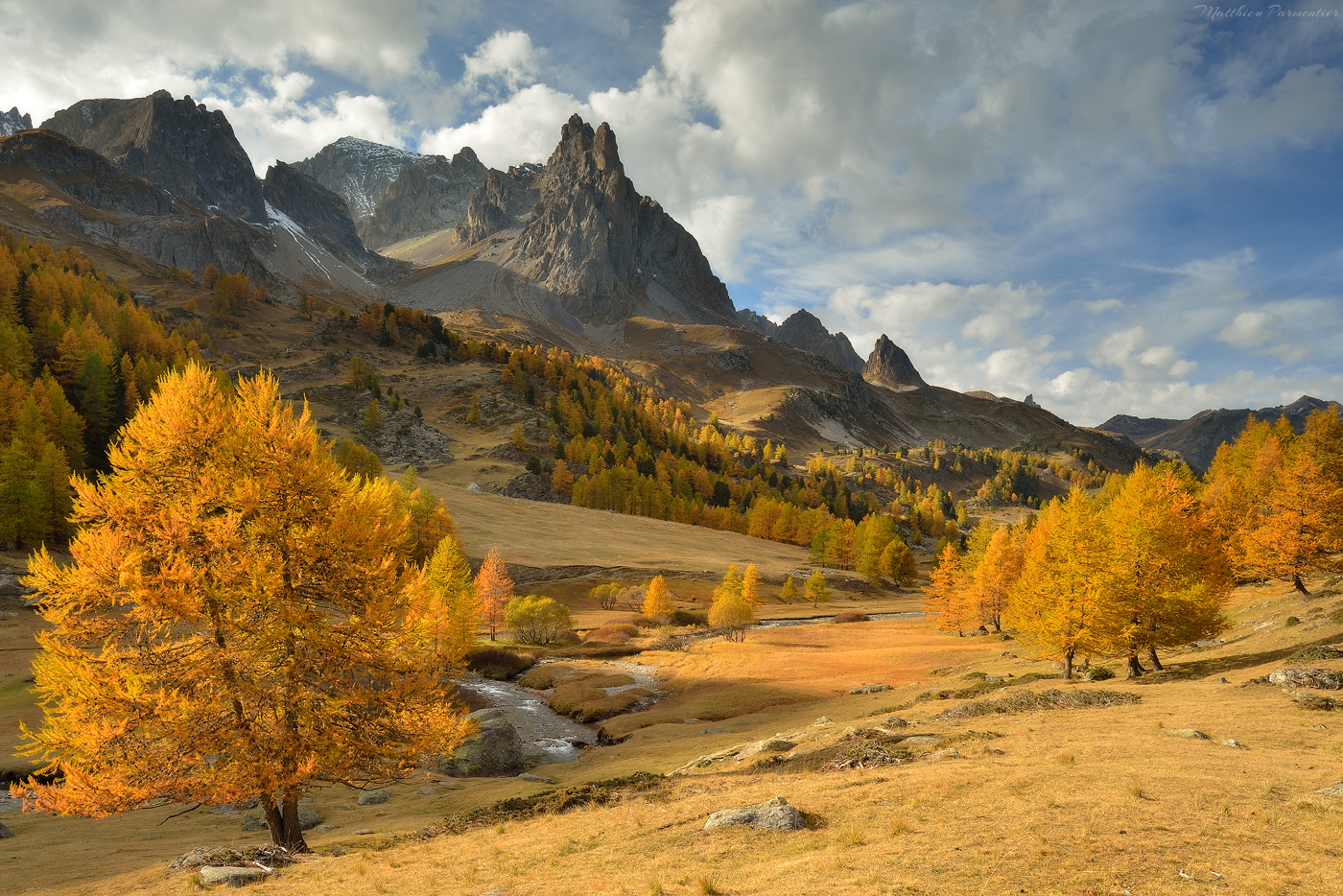 Two months after our trip in Iceland and the making of the Behind the lens #2 picture we made a few days trip in what became our favorite place in France : the Vallée de la Clarée. Located in central French Alps near the Italian border, it is an incredible valley of larch forests crossed by a clear and pure river.
Coming in this place in late october gives you anyone a strong memory for the rest of your life.
I made few nice pictures from our trip there : some from the summits around, some from the lakes in the higher valley and some from the larches, the most iconic tree of the Hautes-Alpes.
But no other picture is as good as this one. Actually I think it is one of the first pictures I made from this trip. It combines everything I love in landscape photography : a golden light, a strong composition, a depth, and this cloudy sky mixed with some blue parts.
I like dramatic skies like many other landscape photographers, but I also love blue skies when they are combined with nice mountains and golden colors like the one from the larches, the ground and the sun.
I used for this picture the same gear than in the previous Behind the lens post, but with a new filter in top front of my camera : a polarizer. This trip was the first in which I tried a polarizer, and for no reason I will ever remove it from my camera now.
A polarizer gives you many advantages when you know how to use it, and the two main ones are :
It pops the colors, really. Especially when dealing with skies.
It gives you the possibility to break or enforce reflexion in waters
I have two polarizer in my camera bag : the classic one I put in front of the lens when I don't use any other filter, and the specific and big one (105mm) I can put in the front of my Lee filters holder. This is the second one I used in this picture, combined with a classic graduated filter 0.9 GND soft for the sky and the summits.
My filter here was an Heliopan CPL 105mm, a strong companion that stayed with me from this first trip in 2013 until… another trip in the same area in september 2020 when I broke it by accident. I replaced it by the one from Lee after that.
Apart from the use of the polarizer this picture was done with classic camera setting for landscape photography : f16 for the sharpness, 1/8s speed thanks to the tripod, ISO 100, and warm white balance.
---
Nikon D800
Nikon 16-35 f4 at 16mm
f/16 – 1/8s – ISO 100
Lee filter 0.9 GND soft
Heliopan CPL 105
Tripod
Single exposure
Title : Autumn splendor
Date : october 2013
Place : Vallée de la Clarée (French Alps)
You might also like