After a long day of travel from Paris to Vancouver and then to Victoria, we started our trip in Vancouver Island by one of it's southern hidden gem : the Koksilah River Ancient Forest. Few days before our departure we had no plan to visit this grove until I found a quick description of what to expect there on the Ancient Forest Alliance website. The facts that it is located not far from Victoria and that it is very unknown made me search for more information about it. It was not easy to find any trail description or driving directions until I found the Seek to sea more article and track on Gaia GPS.
I won't copy/paste all the information from these websites so if you want to reach the forest and needs more detailed information don't hesitate to have a look at them. Anyway, at the end of this post you will find a resume of directions with more recent pictures of the trail to help you find it.
Actually we met on Vancouver Island so amazing big trees compared to the ones of Koksilah that I won't tell you that these are the most impressive ones you could find on the Island. No, the thing with this forest is that you enjoy it alone after a hike/walk in the woods on a very small and hidden path, and you really feel that there are true survivors.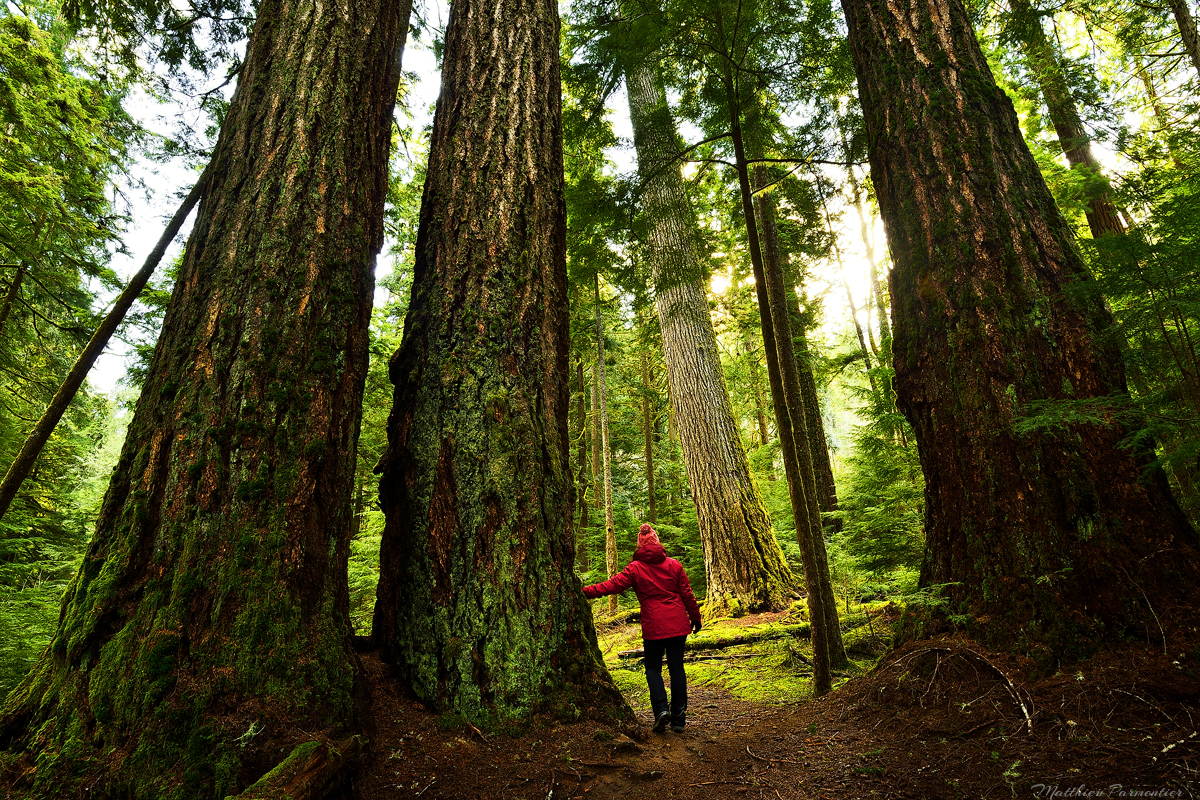 These Douglas firs stand in the middle of normal ones we could see in every forest, and there is only a few of them there. When we arrived I remember how crazy we were. We hadn't seen any trees big like that since the ones from the Redwoods National Park in the USA… back in 2010 !
And you know what ? At the end of our trip on Vancouver Island, this forest was still one of our strong memories. Stronger than Cathedral Grove which is more structured and looks more like a "sunday walk for everybody". There are less trees here, but they are big – as big as Cathedral Grove in my memory – and when you see the forest around it is obvious that there were forgotten by loggers !
---
Directions : the "car park" is located before the 8km marker on Kapoor Main Road (on a hill), which is a logging road accessible after the Koksilah River Car Park on the Renfrew Road.
Trail : the trail starts behind some big bumps (see phone picture one below). It is the trail on the right when you arrive from the road. The hike/walk takes between 35 and 40 minutes one way and has nothing difficult except it can be wet. You just have to follow the trail and to take right at two specific forks and then you will arrive (see phone pictures two and three below for the forks). Once there, you have a path that leads you through the forest for a couple of minutes. It is not big, but it is worth the view for sure.
Phone pictures of the trail :
---
Information
Departure : Kapoor Main Road. 8km marker.
Duration : 40 minutes one way
Date : february 2020
Near the Koksilah River Provincial Park but not inside the park
You might also like