Few hours after my lonely hike to Forcella Giau we did the all of us the long but rewarding loop hike from Passo Giau to Cinque Torri. Claire and I already hiked it back in 2012 and we had a strong memory of a long hike in thunderstom weather conditions… Seven years later we were back that day of august on the same path with our two kids of 2 and 4 and a half : what a change !
The hike starts from Passo Giau just behind the restaurant/refuge. Few meters behind it you have to choose on which way you want to do the hike. Like 7 years ago we decided to start from the left and go straigth to Forcella Nuvolau and the refuge Averau (path 452). This part is rocky but easy most of the time and goes really steep in the final to reach the refuge (see first picture). You can count around 1h30/1h45 for this section.
The first part of the 452 path is more like a balcony trail and is a good an opportunity to enjoy the vast and wild landscape around Passo Giau, one of the most beautiful area in Dolomites. Once arrived in refuge Averau the weather conditions are always a little bit different : colder and more windy, but it is really worth the effort when you look at the view behind you and in front of you. Like all the ones we "visited" in Dolomites, the Averau refuge has everything you need: refuges in this part of Italy are more like mountain restaurants than the ones in the French Alps.
From the Forcella around the refuge the Cinque Torri are already visible and it takes around 30/40 minutes to go down and reach them. All the way down you are rewarding by an amazing view on Tofana Di Roses mountain range. We did the hike on a cloudy day so there were less people than usual in the area but around Cinque Torri be prepare to see many people as a chairlift departing from the other side valley is running until the middle of the afternoon. Once it is closed, the place gets empty and you can enjoy it like we did with almost nobody around.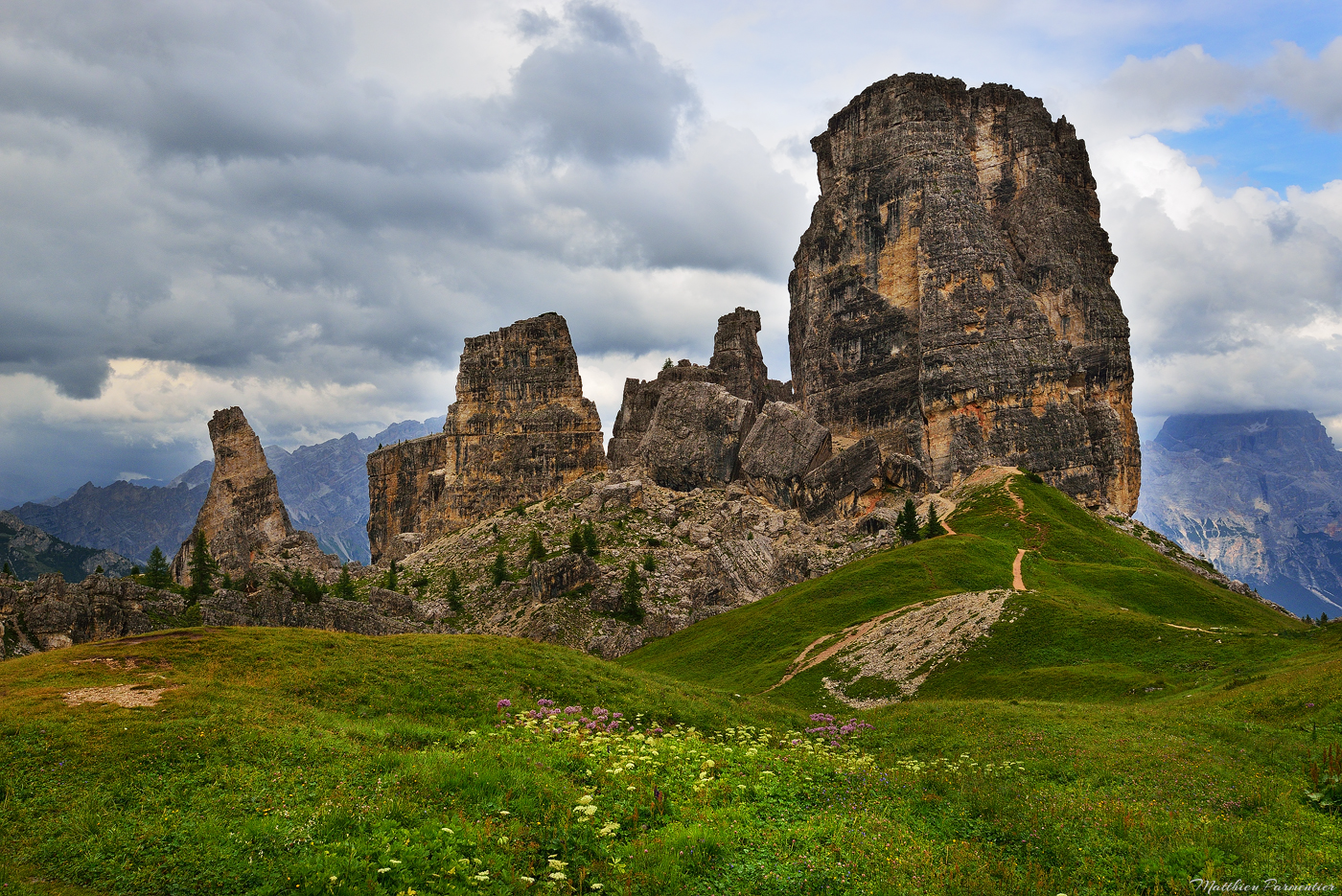 From the Cinque Torri find the path 443 that goes right when your facing them and be prepared for the longest part of the hike. I remember our daughter Olivia being still very enthousiast before starting this part and then getting more and more tired while we were experiencing never-ending alternating up and down portions.
This last part is the longest and less landscape impressive one : once you leave the Cinque Torri the view is getting less wide and the path doesn't give a lot of rest and good points of views. At the begining it is easy to imagine that it would take less this way than from Passo Giau to Rifugio Averau but actually it is much more difficult and longer than you imagine.
There are some really steep parts with sleepery small rocks on 2/3 of the 443 path so you have to consider maybe to come back by Averau refuge if you are not really comfortable with these kinds of trails. We did it on a rainy day 7 years ago and it was not as pleasant as it was this time…
Another thing to consider : it is long. I remember telling my daughter at every turn "it is close we will see the van soon" and then everytime realising that we were still very far from our goal. You can count around 2h30 to do this part, a little bit less without any young kid. Anyway as tired as she was that day I remember that our daughter really did a great job, so I won't except much less than this time for a normal hiker.
It was the second time we did this hike and we didn't regret to have done it again : it is a long one, exhausting for young ones and the old ones that help or carry them, but it is really worth the effort. The views are really nice on the first part, amazing in the second part, and the third part can be seen more like a challenging and quiet exploration of rocky area as we didn't meet anyone on that part.
Unfortunatelly I have less pictures than usually as I was supporting my daugther most of the time, but I hope these few ones will give you a nice idea of what to expect there. A must do for sure !
---
Information
Departure : Passo Giau
Altitudes : 2236m (Passo Giau), 2413m (Refugio Averau), 2255m (Cinque Torri)
Paths : 452, 464, 439, 443
Elevation gain : 280m (more because there are a lot of up and down parts)
Duration : 5h total (1h45 to Refugio Averau, 45min to Cinque Torri, 2h30 to Passo Giau)
Date : august 2019
Mountain range : Dolomites
Outside any park
---
Map
You might also like