First post of the "Travel" section. For this one I choose to come back to a travel that occured 3 years ago (february 2017) : a week in some of the best landscapes of the North of the United Kingdom.
My wife and I both had already visited Scotland many years before but not together. This travel was the second one of that kind we did with our 2 years old daughter. Traveling in winter with a young kid is not the best option for photography and big hikes, but this country is so awesome in anyway that it was worth the flight !
Our 8 days trip itinerary was : arrival in Edimbourg, two days in Glencoe and Fort William, then 3 days on the Island of Skye before returning to the capital with a one night stop in Trossach National Park. A classic trip which allowed us to take time and to not spend too much hours driving… as driving takes so much more time in this kind of country than in ours.
Let's start with some pictures taken on a high plateau above GlenCoe, near the lake Lochan na h-achlaise.
This plateau is really amazing. Vast and wild, with a single road that circles throught it. It is made of small mountains, lakes and rivers and it is the kind of landscape where you really feel the power of nature, espacially at winter time with these strong winds that nevers stops. Because everything looks so far in the landscape, it is not an easy place when you use a wide angle lens, so next time I think I will try to bring my 70-200 to try different things
On the foot of the classic Buchaialle Etive Mor starts a long and really nice valley that leads to Loch Etive. It is a nice drive to do in the area but be aware of two things : all the way to the end of the valley takes a long time, and pay attention of deers as they tend to cross the road wherever and whenever they want. Sometimes you even need to ask them to move to go further !
Back on the main road the drive will lead you to the Glencoe valley and the Three Sisters. Another beautiful place with a lot of mountain hikes. I don't have nice pictures of this mountain range but for sure we will come back to experience some hikes with the kids in the next few years.
Another nice spot to see in the area is Glen Affric. A little bit forbidden by tourists it is a perfect place to enjoy forest paths and do a family hike. Again I don't have nice pictures of this spot as it was too much "blue sky" for my photography taste (at least back at that time), but if you go there don't miss the "easy view" of Memorial Cairn. More information here.
After Glencoe we drove the long but really impressive way to the Isle of Skye and its "capital" Portree. Once there, there are some classic landscapes to see :
The Old Man Of Storr, accessible after a steep but reasonnable hike
The Quiraing and its dominant view on the surrounding landscape
Nest Point and its "end of the world" feeling
Elgol beach with it's view on the Cullins Hills
The Old Man Of Storr is the kind of landscape you see everywhere online or in any social network. But is is so magic and impressive once up there and the view is so breathtaking than you forget everything. A must do as mush as you want !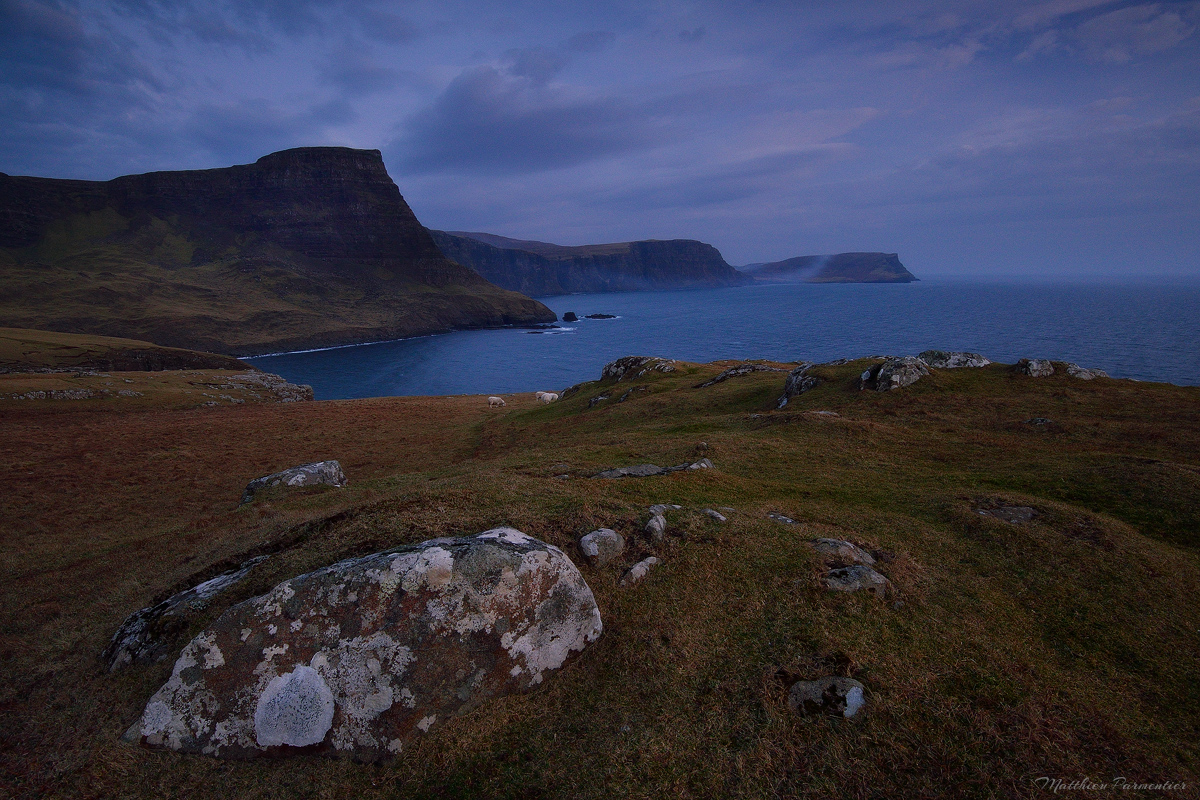 Neist Point is another spot you see everywhere online. All pictures are taken from a hill above where you see the famous lighthouse from a distance. Once you hike down to the see it and the cliffs you understand why : the lightouse is in bad shape and seems to be the home of frequent squatters that let garbages everywhere. I don't know if it's better now, but this place made us remember than sometimes there a big difference between the "Instagram" picture and the reality.
Apart from this "detail" Neist Point is very breathtaking. We didn't had nice lights when we visited the place but we really enjoyed the small but steep hike that goes down from the car park to the cliffs. It is very windy and the see will blow your face many times but this kind of "easy landscape" is perfect to make young ones enjoy travels and being outside far from everything.
On our way back to Edimbourg we had a small stop to Eilean Donan castle which is worth the view and spend a night in Trossach National Park. We had the oppotunity to hike to Ben A'An summit where the view is just awesome. I remember two things about this place: our daughter who wanted to hike all the way up by herself while I was seeing the sky getting darker and darker minutes after minutes… and the rain and the hail that made the last part and the return a little bit difficults ! A classic way of life in Scotland 😉
Scotland is a very good memory. This country like all the others of British Isles – especially Ireland – is a very nice one to visit for everybody. You will find here beautiful landscapes, nice pubs and things to do for all : from the longest hike to a short walk, everybody can easily enjoy the outdoors in Scotland !